Posted by Andy on 6/10/2016 to
The Tubeless Debate:
Bring up tubeless conversions with any group of cyclists and a familiar debate will ensue. On one hand, tubeless set-ups offer an enormous advantage which can change not only how your bike rides, but how much time you'll spend fixing flats on the side of a trail. However, it has also been said that conversion itself can be such a hassle that many choose to stick with tubes, foregoing the traction and virtual elimination of pinch flats that tubeless set-ups provide. After spending frustrating hours attempting to get a bead to seat, most will give up, throw an inner tube in and move on.
As with any new product we get in at Cantitoe Road, we had to put the new tubeless rim strips from Effetto Mariposa to the test. Here are my first impressions:
The Process:
Rim Strips, a 250ml bottle of Caffelatex sealant, and an Effetto Mariposa injector in hand, I headed over to Boo Bicycles in Fort Collins, CO with the goal of coming away with my tires free of inner tubes and full of sealant. Conrad from Boo ended up doing far more work than me, but hey, someone's gotta take the (admittedly amatuer) pictures.
A package of Caffelatex Rim Strips come with both a pair of rim strips and a pair of tubeless valves. The strips come in 3 widths and 2 lengths (26"/27.5" and 29")
S (25 mm): for rims with external section between 20 and 24 mm;

M (30 mm): for rims with external section between 25 and 29 mm;

L (35mm): for rims with external section between 30 and 34 mm.
(Photo credit: Tyler Benedict, BikeRumor.com)
Butyl strips of the past were easy to use, but too often were thick, unstable when mounted and easy to damage with tire-lever, beside weighing a ton. These new strips are virtually puncture-proof in comparison and seem to sit tightly and securely on the rim, even after a few rides.
To test the new strips, we used a pair of HiFi Hootenannies. These aluminum, 27.5" wheels are classified as tubeless ready, as are the Schwalbe Magic Mary and the Continental Mountain King that I ran on front and back, respectively. The rims have an internal rim width of 23mm, an external width of 26mm, and a depth of 20mm. The small 26/27.5" size likely would have worked fine for this setup, but I went with the medium size to be safe.
Step 1
The first step, according to Effetto Mariposa, was to push the valves through the small hole in the strip. This required a solid push, meaning the valve hole should be airtight once tightened down, eliminating a common problem for tubeless conversions. Next, we pushed the valve through the rim and tightened it up with the supplied nut, thus attaching the strip to the rim. The strips aren't adhesive, and stay in place simply through the stretch.
When we took the strips out of the packaging, we were concerned about how much they would have to stretch in order to fit around the 27.5" rims. As it turns out, this is one of the benefits of the rim strip over rim tapes. Keeping the valve hole at 12 o'clock, we used a little elbow grease to drag it into place, which resulted in a satisfying snap. Because the strip was quite wide in comparison to the rim, we carefully centered it using a screwdriver so that it wouldn't interfere with the bead (pictured above). The strips have some decent stretch to them, but are very resistant to breaking or tearing.
Step 2:
Next we installed the Schwalbe Magic Mary tire. Even without sealant or any lube on the bead, the tire inflated and seated instantly using a compressor - a reassuring start.
.
Step 3:
Using the handy iCaffelatex app, we determined that we needed 80ml of Caffelatex Sealant. Effetto Mariposa recommends you only use Caffelatex with the rim strips, as it is one of the only sealants on the market that does not contain corrosive ammonia. It is also one of the only foaming sealants on the market, meaning it covers the sidewall and valve hole much better than competitors.
Using an injector, we pushed 80ml of the sealant through the valve stem. The Effetto tubeless valves have removable cores, which made things easy and clean.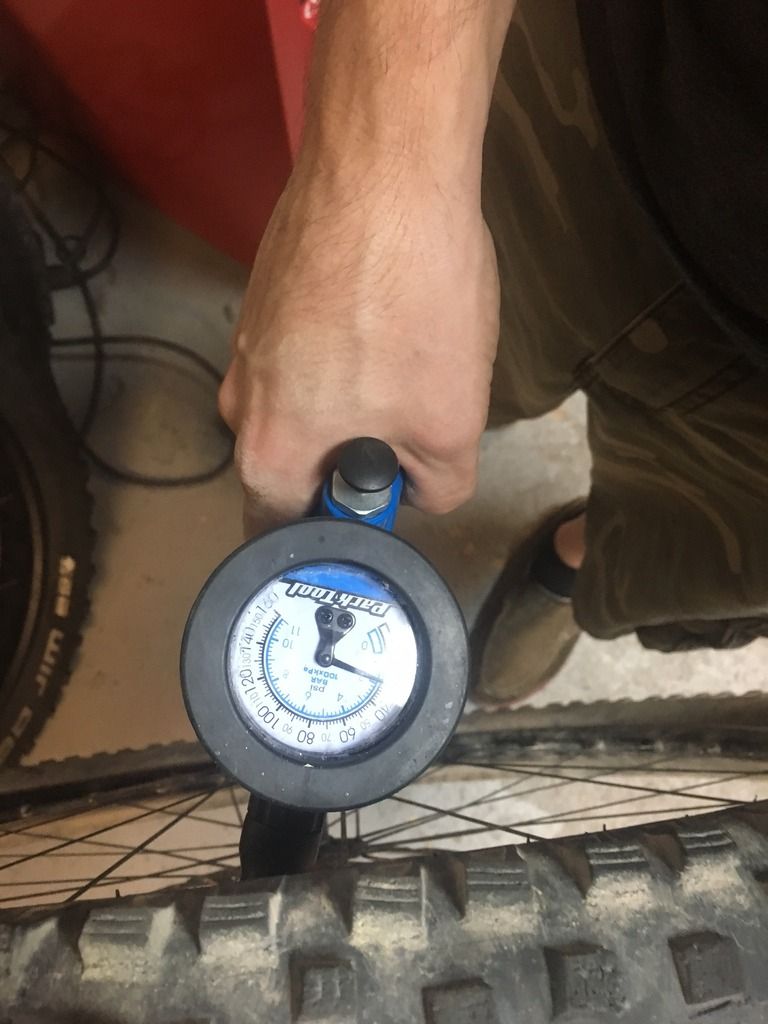 Step 4:
Using a compressor, we re-inflated the tire with sealant inside. Even though it was holding air perfectly, we gave it a few spins in order to get the Caffelatex to foam up and do its job (80ml of foamed up sealant pictured below).
We repeated the same steps with the Mountain King to similar results. Conti's are notoriously hard to seat tubeless, but we had no issues in this case.
Conclusion:
Only 20 minutes after starting, I had both wheels back on the bike and ready to ride. Tubeless conversions can be frustrating tasks, but it was a pleasure working with the rim strips (okay, mostly watching Conrad work with them). The next morning, the tires had held 100% of the air and withstood a 20-mile ride without any issues. Compared to tubeless tape, the strips are faster to install, more consistent around the rim, lighter, can be reused, and are generally tougher and more resistant to punctures. They are slightly more expensive than traditional tubeless tape, but the ease of installation more than makes up for the extra cost in my opinion. While it's only a single piece of the tubeless puzzle, it is an extremely important one.
Little known bonus, those red anodized valve stem caps gave you at least 10 extra watts.
Notes:
With any tubeless set up, the rims and tire choices make a significant difference in the success rate, so do your homework. While non-tubeless rims and wheels should work using these methods, the rate of success is much higher with products designed specifically to be tubeless.

If you're unfamiliar with compressors, use caution. Pushing too much air into the tire can blow up the bead and ruin a tire. Look up the maximum psi the manufacturer of your tire recommends before using a compressor. I have heard of success using a floor pump for tubeless set-ups, but a compressor will be much easier in most cases.

These tires had been on the rim as clinchers previously, so the bead was already stretched. If you can't get a brand new tire to hold air, this may be a reason why. Set it up with an inner tube and let it stretch into shape overnight. As the bead seats while you're inflating, you may hear a loud snapping noise - this is a rare time when snapping noises are a good sound to hear while working on a bike.
Effetto Mariposa Installation Video:
TOP